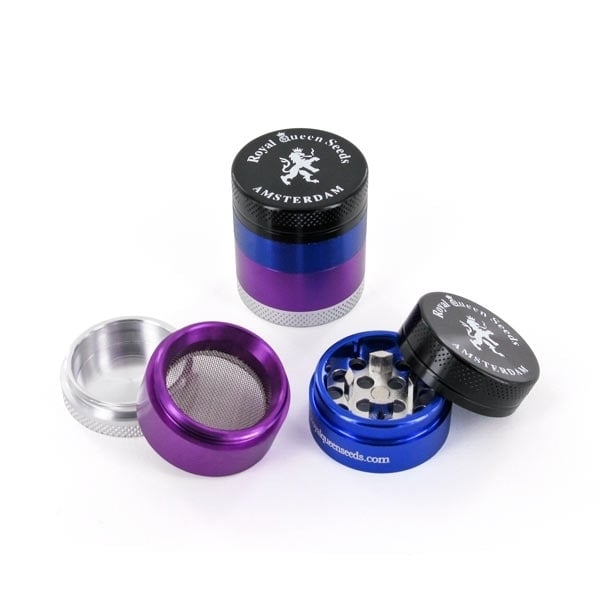 Gekleurde Metalen Grinder (4-delig)
Verzamel je skuff met de vierdelige RQS grinder
Skuff is het fijne trichomen poeder wat achterblijft na het vermalen van je oogst. Op het moment dat deze trichomen nog aan de plant zitten, worden het kristallen genoemd. Na het vermalen verandert de naam in skuff. Dit poeder wordt ook gebruikt voor het maken van de traditionele hasj. Wie redelijk bekend is in de cannabis levensstijl, is zich ervan bewust dat dit restmateriaal zeer krachtig is. Het is dus enorm prettig en ook niet onbelangrijk om een apparaat in bezit te hebben die dit materiaal voor je opvangt en bewaart.

De vierdelige RQS grinder is zo een apparaat. Je zorgvuldig gekweekte toppen worden bovenin vermalen door simpelweg te draaien aan het deksel. In de grinder vinden we een zeef, bovenop de zeef vinden we de vermalen toppen en het krachtige trichomen poeder valt door de zeef om opgevangen te worden in het onderste gedeelte. Op dat moment heb je twee opties: of je sprenkelt het over je vermalen toppen, of je wacht tot je genoeg materiaal hebt om dit samen te drukken en later te gebruiken.

Bij een gewone, minder uitgebreide, grinder gaat dit kostbare materiaal verloren; het valt op de grond of kleeft aan het maalgedeelte, waardoor reinigen lastiger wordt.

Daarnaast is deze grinder een ware lust voor het oog. De prachtige zilveren, zwarte, paarse en blauwe onderdelen zijn mooi om naar te kijken en de stoere Royal Queens Seeds rokende leeuw staat trots en fier bovenop. De grinder kan niet schilferen en laat geen resten achter in je vermalen marihuana, zoals dit wel eens kan gebeuren met geverfde grinders. Dit komt door de manier van fabriceren: het aluminium is geanodiseerd, dus voorzien van een oxide-laag.
Skuff is een van de beste bestanddelen van een cannabis plant en het zou zonde zijn als dit materiaal verloren gaat omdat je geen grinder met een zeef in bezit hebt. Deze grinder is beslist onmisbaar, dus bestel hem nu en ontdek de effecten van de trichomen.



By alessio C. on 20/Jun/2016 :

Title : comprare
Comment : Come si fa a comprare?

By alexis M. on 08/Jan/2015 :

Title :
Comment : tres bon produit

By Andrei L. :

De klant heeft het product beoordeeld, maar geen review geschreven.

By liam S. on 18/Mar/2014 :

Title : not to bad
Comment : a little to small for my Hands only can grind a small bit a time and magent keeps geting cloged up kida a pain but works lovey and u dont lose THC :) ( why 3 star ) wish it was bigger for what u pay )

By Ignas L. on 28/Jan/2014 :

Title : A great grinder
Comment : This grinder is tiny (like 2cm in diameter) but it is very durable and the 2nd level container (to which you grind your stuff) is exact size for 1 spliff. Grind it full, use on a spliff and it should be just the perfect amount for 2-3 people.

By Sher J. :

De klant heeft het product beoordeeld, maar geen review geschreven.

By Tommaso D. on 15/Nov/2013 :

Title : Grinder
Comment : Piccolo e discreto, il grinder perfetto per tutte le occasioni!

By Alex O. on 20/Jun/2013 :

Title : small but useful
Comment : i carry my grinder always with me because its small and it fits into my pocket

By Isabel M. on 03/Apr/2013 :

Title : great lil grinder
Comment : Used it several times scince I got it and still love it. Yap, it's small but it works very good and fit in almost each pocket... Thx for this great tool

By Bojan L. on 21/Feb/2013 :

Title : Grinder
Comment : Very interesting device. :)

By mark M. on 07/Feb/2013 :

Title : grinder
Comment : its a bit small but does wot its made for easy to carry about and not to bulky thanks royal queen seeds

By dries N. :

De klant heeft het product beoordeeld, maar geen review geschreven.

By Alaerts C. :

De klant heeft het product beoordeeld, maar geen review geschreven.

By Geoffrey M. on 03/Jan/2013 :

Title : Grinder sympa !!!
Comment : Bonjour,Je trouve ce grinder sympathique, petit bémol quand même sur le diamètre. La taille n'est pas indiqué dans le descriptif et je tenais donc à préciser au futur acheteur que ce grinder mesure 3cm de diamètre.Merci royalqueenseeds.




You can't post a review because you are not logged as a customer

Log in / sign up
We do not ship this product to the following countries:
Germany, Canada, China, Finland, Japan, Luxemburg, United Kingdom, United States, HongKong, Australia, Singapore, Ireland, New Zealand, South Korea, Israel, South Africa, Nigeria, Ivory Coast, Togo, Bolivia, Mauritius, Romania, Slovakia, Algeria, American Samoa, Andorra, Angola, Anguilla, Antigua and Barbuda, Argentina, Armenia, Aruba, Azerbaijan, Bahamas, Bahrain, Bangladesh, Barbados, Belarus, Belize, Benin, Bermuda, Bhutan, Botswana, Brazil, Brunei, Burkina Faso, Burma (Myanmar), Burundi, Cambodia, Cameroon, Cape Verde, Central African Republic, Chad, Chile, Colombia, Comoros, Congo, Dem. Republic, Congo, Republic, Costa Rica, Croatia, Cuba, Djibouti, Dominica, Dominican Republic, East Timor, Ecuador, Egypt, El Salvador, Equatorial Guinea, Eritrea, Estonia, Ethiopia, Falkland Islands, Faroe Islands, Fiji, Gabon, Gambia, Georgia, Ghana, Grenada, Greenland, Gibraltar, Guadeloupe, Guam, Guatemala, Guernsey, Guinea, Guinea-Bissau, Guyana, Haiti, Heard Island and McDonald Islands, Vatican City State, Honduras, India, Indonesia, Iran, Iraq, Man Island, Jamaica, Jersey, Jordan, Kazakhstan, Kenya, Kiribati, Korea, Dem. Republic of, Kuwait, Kyrgyzstan, Laos, Lebanon, Lesotho, Liberia, Libya, Liechtenstein, Lithuania, Macau, Macedonia, Madagascar, Malawi, Malaysia, Maldives, Mali, Malta, Marshall Islands, Martinique, Mauritania, Hungary, Mayotte, Mexico, Micronesia, Moldova, Monaco, Mongolia, Montenegro, Montserrat, Morocco, Mozambique, Namibia, Nauru, Nepal, Netherlands Antilles, New Caledonia, Nicaragua, Niger, Niue, Norfolk Island, Northern Mariana Islands, Oman, Pakistan, Palau, Palestinian Territories, Panama, Papua New Guinea, Paraguay, Peru, Philippines, Pitcairn, Puerto Rico, Qatar, Reunion Island, Russian Federation, Rwanda, Saint Barthelemy, Saint Kitts and Nevis, Saint Lucia, Saint Martin, Saint Pierre and Miquelon, Saint Vincent and the Grenadines, Samoa, San Marino, São Tomé and Príncipe, Saudi Arabia, Senegal, Serbia, Seychelles, Sierra Leone, Slovenia, Solomon Islands, Somalia, South Georgia and the South Sandwich Islands, Sri Lanka, Sudan, Suriname, Svalbard and Jan Mayen, Swaziland, Syria, Taiwan, Tajikistan, Tanzania, Thailand, Tokelau, Tonga, Trinidad and Tobago, Tunisia, Turkmenistan, Turks and Caicos Islands, Tuvalu, Uganda, Ukraine, United Arab Emirates, Uruguay, Uzbekistan, Vanuatu, Venezuela, Vietnam, Virgin Islands (British), Virgin Islands (U.S.), Wallis and Futuna, Western Sahara, Yemen, Zambia, Zimbabwe, Afghanistan, Antarctica, Bosnia and Herzegovina, Bouvet Island, British Indian Ocean Territory, Cayman Islands, Christmas Island, Cocos (Keeling) Islands, Cook Islands, French Guiana, French Polynesia, French Southern Territories, Åland Islands
KLANTEN DIE DIT ARTIKEL KOCHTEN, KOCHTEN OOK
Uw winkelmand bevat geen producten.
Disclaimer
Alle cannabis zaden die bij Royal Queen Seeds worden verkocht zijn uitsluitend bestemd voor persoonlijk en kleinschalig gebruik. Wij leveren geen zaadjes aan grootschalige of commerciële kwekers. Wij behouden ons het recht voor om een bestelling te weigeren als wij vermoeden dat deze niet in overeenstemming is met onze richtlijn.